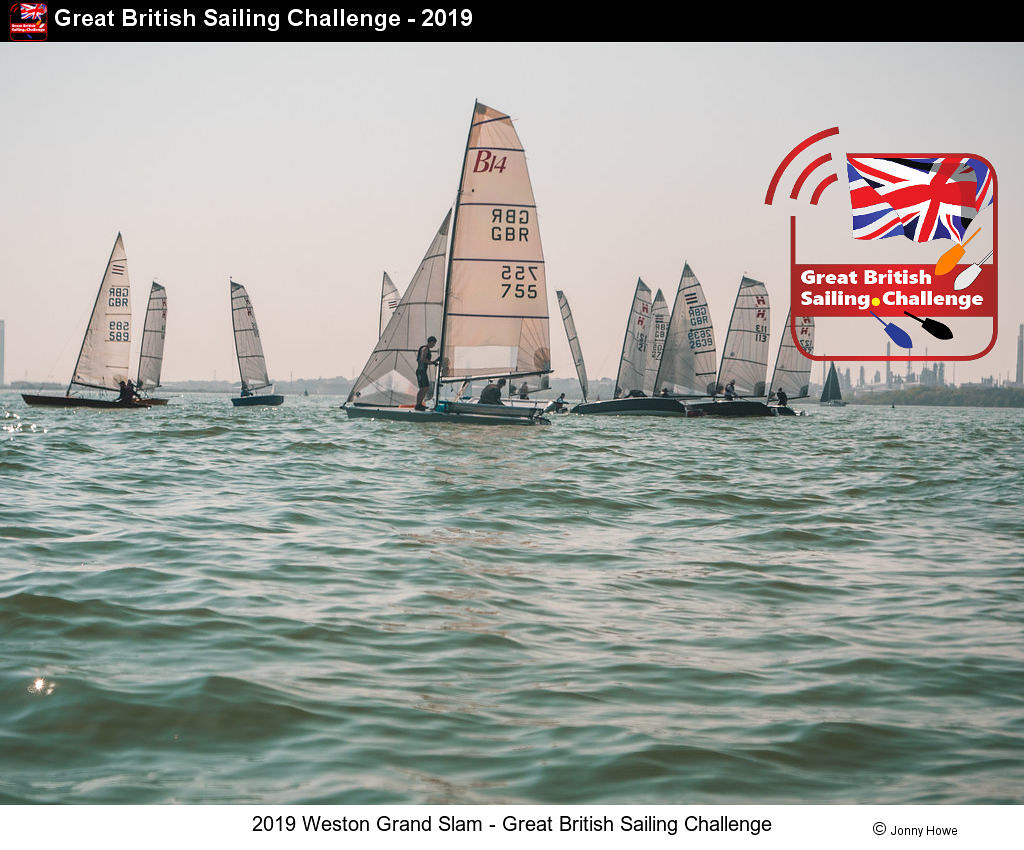 Tropical condition at Weston. The multihulls and skiffs were looking fast for as long as the light breeze was blowing, but when it turned to a drifter, things played into the hands of Andrew Snell (K1). The Rooster Time Trials on Good Friday, saw the Enterprise of Christopher and Kayleigh Spencer winning, with Dave Barker taking the Hadron H2 Open based on Saturday's extracted class results.
Andrew Snell's K1 keelboat won the Weston Grand Slam convincingly on a tropical and light airs Easter weekend in Southampton Water. With 48 entries, this was the first tidal event in the Great British Sailing Challenge calendar and an opportunity for monohull dinghies, multihulls and small keelboats all to compete against each other. At times, all boat types had a sniff of the front of the fleet but the dying breeze ultimately suited the momentum of Snell's K1.
The main event over Saturday and Sunday was preceded by the Rooster Time Trials on Good Friday. A bit like the qualifying session of a Formula One grand prix, the aim is to clock the fastest time (under handicap) around the course. There was a window between 12pm and 3pm, with many of the fast boats waiting ashore in the belief that the final hour would bring a good sea breeze, whilst the slow boats headed out early. In the end the breeze died as the sea and land breeze battled it out, meaning the fastest laps recorded early on. It was a local Enterprise that benefited from the lighter breezes, with Christopher and Kayleigh Spencer winning the Rooster Time Trials:
http://www.sailingchallenge.org/eventsites/content.asp?id=47095&eventid=213465&templ=
One of the opportunities of the Great British Sailing Challenge events is to hold your own open meetings and championships within the bigger event. The Hadron H2 class chose the Saturday of the Weston Grand Slam for their own open meetings and seven boats contested the day. In the end it was very close between Dave Barker and Richard Leftley who had a photo finish in R2 which had to be resolved with SailRacer GPS trackers and recorded positions, meaning Barker won overall:
http://sailingchallenge.org/eventsites/content.asp?id=47098&eventid=213465&templ&fbclid=IwAR09g6sgGH2WT9DHLnf9GfpncIWjkVh_zEfnYMSKZ9GUZVe9o3y73s8DTCI
As for the massed fleet, race one took place in the best breeze of Saturday, as the occasional gust wafted across the course at about 10 knots. Race one was won on corrected time by Ralph and Sophie Singleton in their RS800 ahead of John Tuckwell's Nacra Carbon 20 from Bala. Just six handicap seconds behind the foiling catamaran was Snell's singlehanded keelboat with the Formula 18s of Grant Piggott/ Simon Farren and Simon Northrop/ Caleb Cooper in fifth and sixth.
With the wind beginning to die for Race 2, the fast catamarans struggled to match their handicap performance of the earlier heat, although Tuckwell still managed fourth on corrected time. Snell's K1 was really coming into its won, dominating the race while Steve and Sarah Cockerill finished 2nd in their RS400 ahead of Val Millward's Challenger trimaran.
Race 3 was even more of a drifter which again gave Snell the victory, this time ahead of Rich Vincent's RS Aero 9 and Dave Barker's Hadron H2.
The sailors enjoyed some great evening hospitality at Weston Sailing Club and hoped for some more close racing on Sunday. However, the wind didn't show up and so the scores from Saturday would stand, with three races not permitting a discard. Snell became the winner ahead of the Cockerills' RS400 and a Europe sailed by Emma Pearson. Overall results are here:
http://www.sailingchallenge.org/eventsites/content.asp?id=47097&eventid=213465&templ=
Using the SailRacer tracking, Chris King's Nacra 20 clocked up the fastest speed of 14.97 knots during Race 2 but it was again Snell who produced the fastest speed on adjusted handicap time.
The event was well supported by local sponsors, with Rooster Sailing (https://www.roostersailing.com) providing the prizes for Good Friday, and watersports specialist retailer Andark (https://andark.co.uk/) sponsoring the prizes on the Saturday and Sunday.
The next event on Great British Sailing Challenge is the Derwent Dambuster which takes place at Derwent Reservoir Sailing Club on 11 & 12 May.
Online entry is open at www.sailingchallenge.org.
GBSC Calendar 2018/19
Fernhurst Books Draycote Dash, Draycote Water Sailing Club
17 & 18 November 2018
Datchet Flyer, Datchet Water Sailing Club
8 & 9 December 2018
Brass Monkey, Yorkshire Dales Sailing Club
27 December 2018
John Merricks Tiger Trophy, Rutland Sailing Club
2 & 3 February 2019
Oxford Blue, Oxford Sailing Club
16 February 2019
King George Gallop, King George Sailing Club
16 & 17 March 2019
Weston Grand Slam
19-21 April 2019
Derwent Dambuster, Derwent Reservoir Sailing Club
11 & 12 May 2019
Wilsonian River Challenge, Wilsonian Sailing Club
1 & 2 June 2019
Bala Long Distance, Bala Sailing Club
22 & 23 June 2019
Mountbatten Centre, Plymouth
8 to 10 August 2019
Ullswater Ultimate, Ullswater Yacht Club
17 & 18 August 2019
Grand Finals, Rutland Water Sailing Club
28 & 29 September 2019
How do I get to the Grand Finals?
The Grand Finals of the GBSC are designed to celebrate the best of everything in small-boat racing in Great Britain. So there are many ways to qualify....
Finish in the top 10 of the travellers' series (based on your best three results)
Top qualifiers in a number of boat categories:
Any boat valued at less than £1000
Top qualifiers in a number of age and other categories, for example:
Two Generations (two people sailing together, minimum age gap of 18 years - could be parent/child but not necessarily)
There will also be a number of 'wild card' invites available based on various criteria.
Hang on, but what even IS the Great British Sailing Challenge?
It's a series of handicap racing events that take place throughout the year, and it's open to pretty much any sail-powered craft. The Challenge involve events throughout the whole year, running large regattas at a variety of inland and open water venues. Competing sailors will earn ranking points from each event they compete in, with the top 100 sailors invited to a winner-takes-all-final at Rutland Water in September, a celebration to bring together the best British sailors of the year.
Who came up with the idea?
The idea comes from the organisers of the Seldén SailJuice Winter Series which has been one of the big success stories of the past decade. Organised by Andy Rice of SailJuice.com (sailing journalist and marketer) and Simon Lovesey of SailRacer (event organiser and GPS tracking expert) has completed its 10th season.
www.sailingchallenge.org
Further Information for media:
Please contact Andy Rice
email: info@sailjuice.com
Phone: 020 8133 9330
24/4/2019 11:00