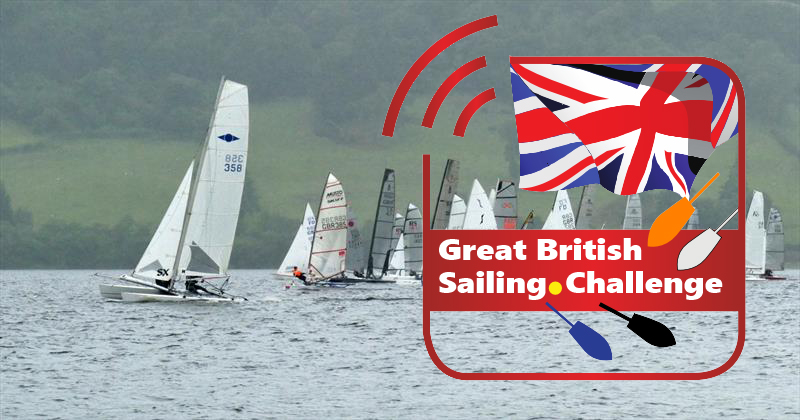 The Bala Long Distance could well claim to offer the most beautiful scenery of all the events in the Great British Sailing Challenge....
For those in the know, the Bala Long Distance has been one of those rare jewels of the summer scene in British dinghy sailing. Now part of the Great British Sailing Challenge, this year's Bala Long Distance takes place in just over a week's time on the weekend of 22 & 23 June.
Enter Here The big race itself, which takes the fleet the full length of Bala Lake (about 3.5 miles long), starts at 1pm on Saturday. Mike Allen, one of the event organisers, says it's the high point of the Bala year and one that he's delighted to share with any visitors to this beautiful part of North Wales, the mountainous Snowdonia National Park. "I've raced in ten editions and only won it once, in my Devoti D-1," he says. "It's an incredible stretch of water to sail on, and this race can be pretty challenging. We'll aim for four hours of racing, which in the right breeze will mean about four laps for the fast cats and maybe a couple of laps for the slower boats like the Solos and other hiking singlehanders."
The Sunday will be three-back-to-back handicap races using the Great Lakes handicap numbers whose accuracy and fairness is well proven on the Selden SailJuice Winter Series, along with other GBSC speed prizes using SailRacer's GPS tracking which will be fitted to all the boats for the weekend.
Bala's generous size makes it a great playground for boats of all shapes and sizes. Among the multihulls expected to compete in the event are F18s, F20s, Unicorns, A-Class cats and even a Nacra 17. Sportsboats are set to be a battle between SB20s and VX-1s. The Topper is the slowest boat permitted to take part while Brad Gibson is expected to make an appearance in his foiling International Moth.
Among the more conventional dinghies, the Scorpion fleet has targeted Bala as a 'must do', as have the RS400s who like to include the Bala Long Distance as part of their popular Rope4Boats Northern Tour.
For the non-sailors in the family there is plenty to do around the lake, including mountain bike hire, stand-up paddleboarding and other watersports. If that all sounds too energetic, there is also an old steam train that runs alongside the lakeshore and makes for a great way of following the progress of the long distance race. Just 10 minutes away is the town of Bala with a swimming baths to take the kids, and plenty of other activities in this area which is very much geared up to entertaining the many tourists that visit this spectacular part of the country.
For Saturday evening, a BBQ is planned for all the competitors and their families, and at 8pm a local live band, Face Value, will entertain everyone as they watch the sun set over the Welsh mountains.
If you've got a boat, chances are you're eligible for the Bala Long Distance. Get your entry in at www.sailingchallenge.org .
GBSC Calendar 2018/19
Fernhurst Books Draycote Dash, Draycote Water Sailing Club
17 & 18 November 2018
Datchet Flyer, Datchet Water Sailing Club
8 & 9 December 2018
Brass Monkey, Yorkshire Dales Sailing Club
27 December 2018
John Merricks Tiger Trophy, Rutland Sailing Club
2 & 3 February 2019
Oxford Blue, Oxford Sailing Club
16 February 2019
King George Gallop, King George Sailing Club
16 & 17 March 2019
Weston Grand Slam
19-21 April 2019
Wilsonian River Challenge, Wilsonian Sailing Club
1 & 2 June 2019
Bala Long Distance, Bala Sailing Club
22 & 23 June 2019
Mountbatten Centre, Plymouth
8 to 10 August 2019
Ullswater Ultimate, Ullswater Yacht Club
17 & 18 August 2019
Grand Finals, Rutland Water Sailing Club
28 & 29 September 2019
How do I get to the Grand Finals?
The Grand Finals of the GBSC are designed to celebrate the best of everything in small-boat racing in Great Britain. So there are many ways to qualify....
Finish in the top 10 of the travellers' series (based on your best three results)
Top qualifiers in a number of boat categories:
Fast Asymmetric
Fast Non-Asymmetric
Slow Asymmetric
Slow Non-Asymmetric
Multihull
Sportsboat
Best Improver
Most attended
Any boat valued at less than £1000
Top qualifiers in a number of age and other categories, for example:
Youth (Under 19)
Master (Over 60)
Female
Two Generations (two people sailing together, minimum age gap of 18 years - could be parent/child but not necessarily)
There will also be a number of 'wild card' invites available based on various criteria.
Hang on, but what even IS the Great British Sailing Challenge?
It's a series of handicap racing events that take place throughout the year, and it's open to pretty much any sail-powered craft. The Challenge involve events throughout the whole year, running large regattas at a variety of inland and open water venues. Competing sailors will earn ranking points from each event they compete in, with the top 100 sailors invited to a winner-takes-all-final at Rutland Water in September, a celebration to bring together the best British sailors of the year.
Who came up with the idea?
The idea comes from the organisers of the Seldén SailJuice Winter Series which has been one of the big success stories of the past decade. Organised by Andy Rice of SailJuice.com (sailing journalist and marketer) and Simon Lovesey of SailRacer (event organiser and GPS tracking expert) has completed its 10th season.
18/6/2019 11:09